Who, What, When, Where… How do you accomplish effective mobile engagement?
Estimated Read Time:
3
Minutes
The "simple" use of the 4 W's for excellent and engaging mobile marketing campaigns
Mobile engagement is an important part of any marketing strategy; it plays a crucial part in reaching out to, and connecting with, your customers. So, how does one go about making an effective mobile engagement campaign in a way that both promotes the brand and also brightens the customers' life? This requires customer journey analysis, hyper-personalized audience segmentation, micro-targeted message triggering and well-crafted calls-to-action that are designed to generate engagement. This is the pain that mobile engagement automation (MEA) solutions set out to address, but too often this results in a discouragingly complex system. Just the basics of setting up a campaign, let alone ensuring the campaign is personalized for better engagement is hard to wrap one's head around, leading to high integration costs, under-utilization of data and sub-optimal results Does it really need to be so complicated? Turns out it doesn't.

The Big Picture
The customer engagement solutions market is expected to reach USD 30.92 billion by 2025, with a CAGR of 12.65%, during the forecast period (2020 – 2025). These numbers reflect the ever-increasing importance of mobile devices, given their heavy daily usage, in shaping a positive customer experience. While there is great potential, it can also be overwhelming both to the marketer and to the end-user. So how does one make the mobile experience with their brand a positive one for end users? It comes down to creating a mobile engagement campaign that is highly targeted reaching out only to the most relevant audiences at the exact time they may be interested. This needs to be hyper-personalized.
Personalization and Mobile Engagement Automation
Making a personalized mobile engagement campaign is still not as straightforward as it should be. In many cases, solutions that are available reduce the customer to a number or a ratio in the spreadsheets and graphs. The complexity of being able to send a personal message, of relevance, becomes that much more impossible, if you can't see the human being. So, we decided that it was time to bring back the person into personalization…which we did.
Instead of evaluating numbers, our JedAI Product Suite invites you to consider audiences as people. Describe your target persona through their behavior, habits and lifestyle and match them with offers and services in relevant moments. Consumers will reward brands that will provide a solution for a specific pain in their life that is personalized and timely.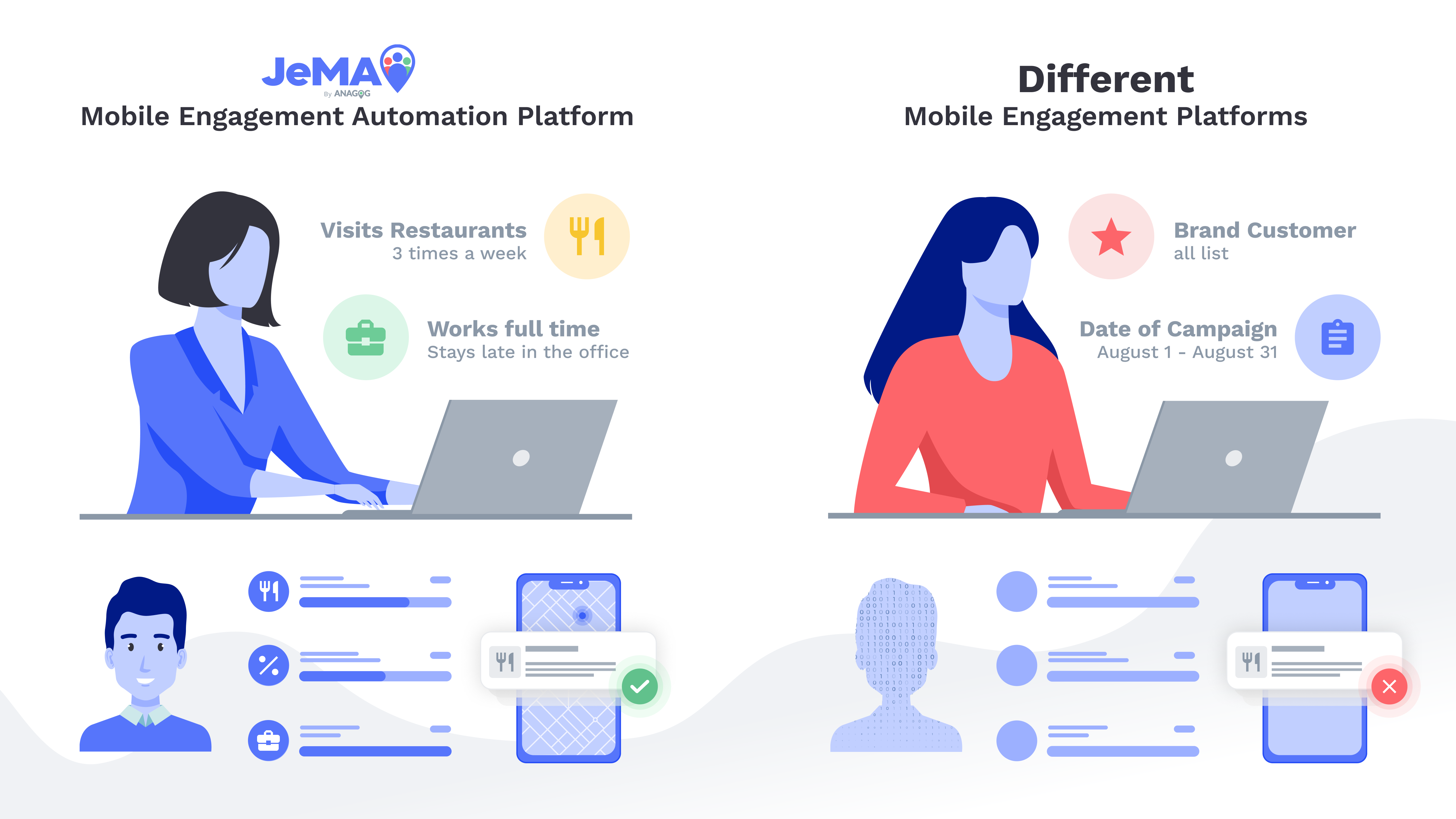 The Simplicity of Optimal Mobile Engagement

Within the Anagog solution, the JedAI Marketing Assistant (JeMA), invites marketing teams to create straightforward, human-readable campaigns to engage with users, based on the four W's: who, when, where, what. "Who" are you targeting with this campaign (based on their behavior and lifestyle); "When and Where" do you want to engage them (based on their real time activity and location); "What" is the message you wish to engage them with. This way you can create a perfect moment in time with which to engage specific users with a specific Call-to-Action to truly add value to your customers' life and bring further value to your brand.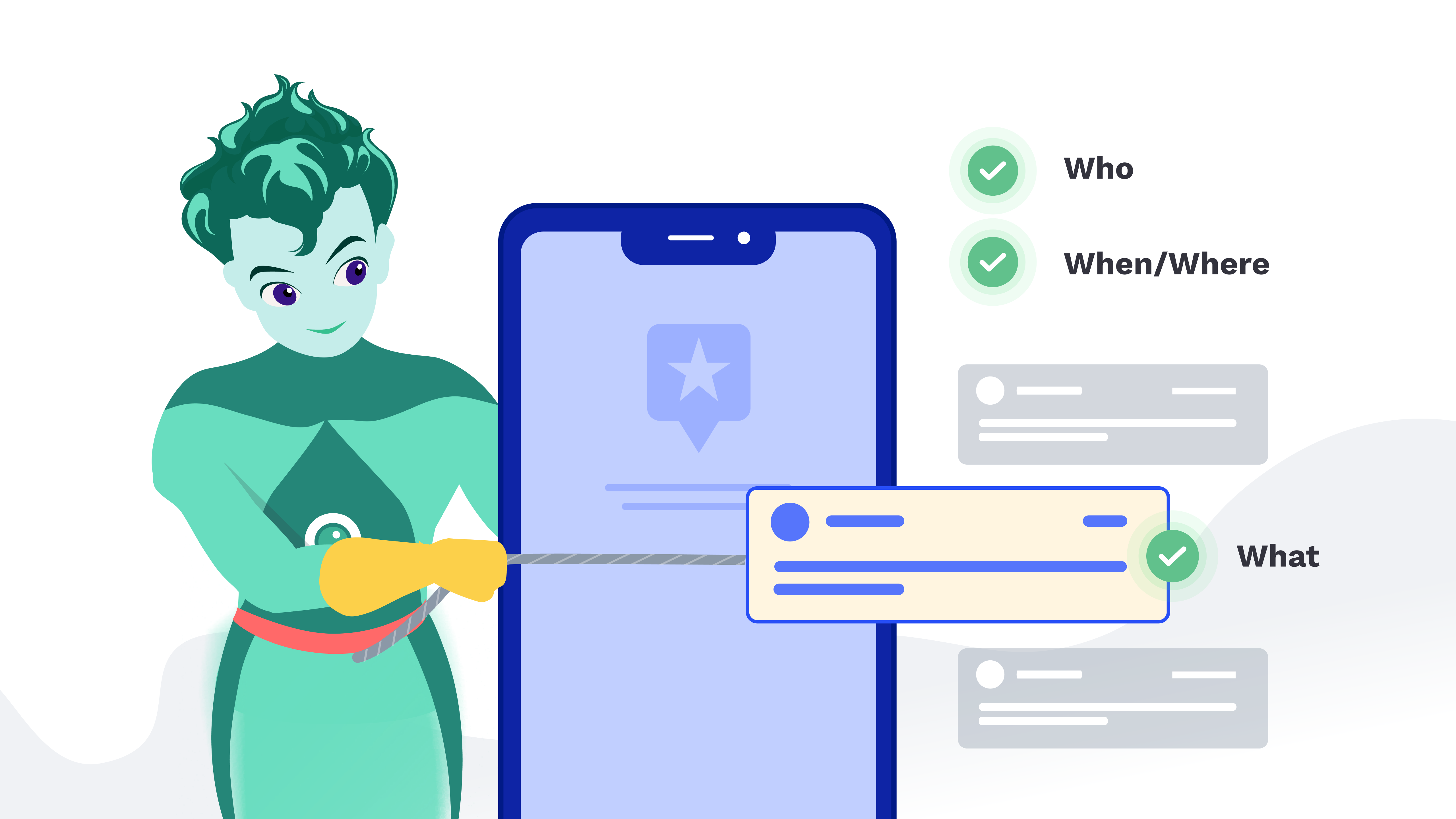 Based on these rules, each JedAI SDK (which resides in the phone in order to get to know your customer's real-world actions) selects only those campaigns that are relevant for that customer.  The SDK is embedded in your app and acts as a personalization agent for the users, so their information never has to leave the phone.
Our Mobile Engagement Automation platform is customer centric. By making sure your customers receive only what is relevant for them, you can upgrade the User Experience while building short-term and long-term value for your brand. Creating your next mobile engagement campaigns with JeMA is simple, with greater personalization and with true real-time engagement. Learn more about how JeMA and the four W's work by clicking here.