Introducing Micro-Segments and Micro-Moments to the Financial Industry
Estimated Read Time:
3
Minutes
Disruptive – a term that inspires startups, attracts investors, and haunts conventional business. Over the past decade, we've seen a number of industries turned upside down by an injection of ingenuity and private capital. As a result, the giants of every major industry are becoming increasingly more cognizant of the potential for disruption and the need to adopt new, innovative solutions to remain not only ahead of competition, but relevant, as their industries evolve. Few industries are prioritizing the search for new solutions more fervently than the banking sector. Because of our unparalleled ability to gain insight into offline customer behavior while simultaneously providing customers with the ability to protect and control their data via AI, leading financial institutions have found our innovative technology to be highly valuable in helping them address some of the key challenges they face today.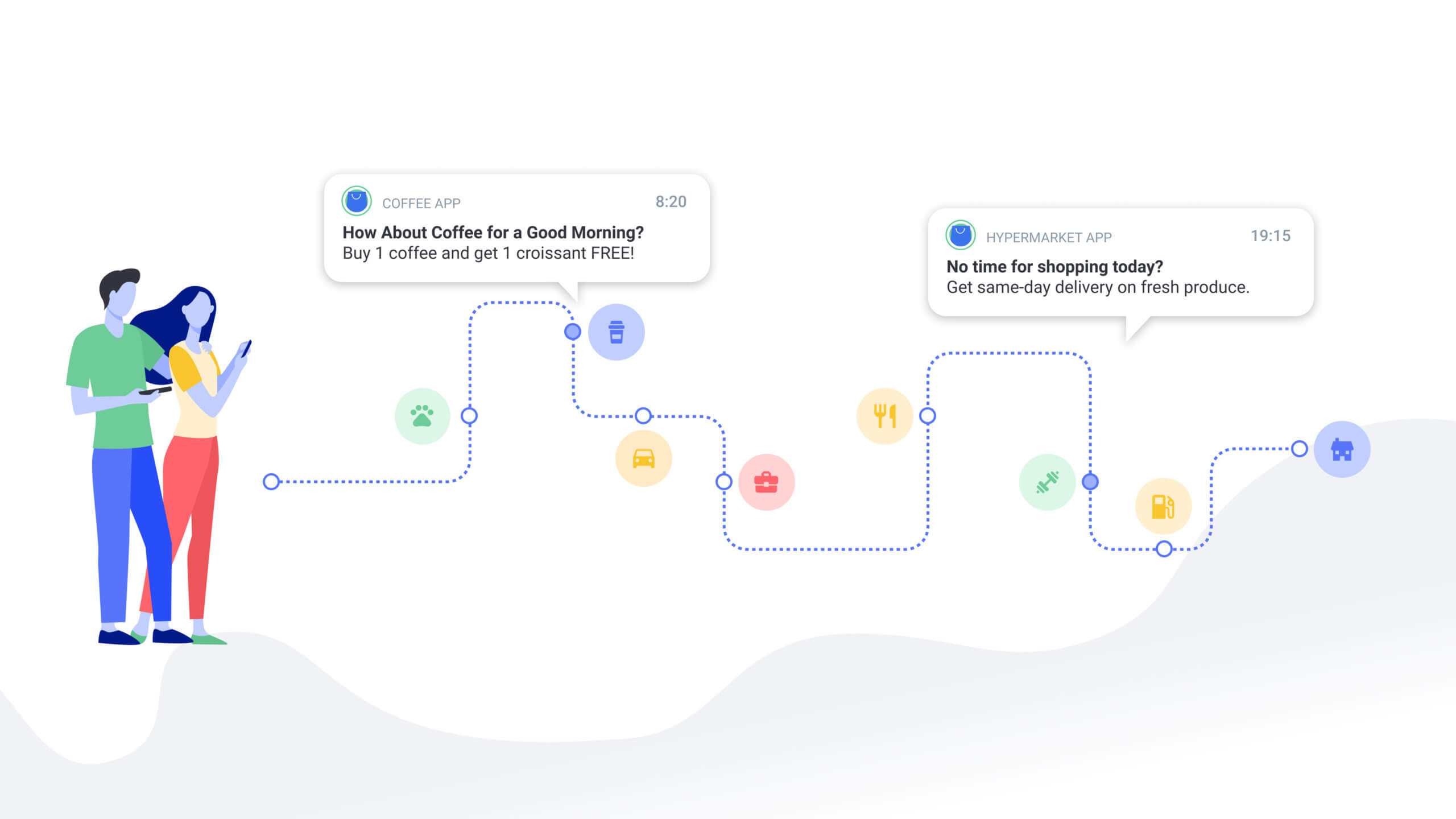 Our technology enables businesses, for the first time, to understand their customers' needs in real-time and approach each customer with the best, most relevant offer at the optimal moment. If we can determine that a customer is near a shopping center in the middle of the day, we can send him a promotion to a nearby restaurant or department store in the mall, or remind him of his cash back benefits on the card. If we can see that a customer has entered an airport, we can remind him to take advantage of the free lounge he is entitled to access with his bank's credit card and the discounted foreign transaction fees his card offers while he is abroad.
The powerful advancements our technology enables are made possible by our patented AI engine, called JedAI. JedAI is able to capture data generated by the sensors on a smartphone and contextualize it. Our algorithms, which operate locally on the device itself (i.e., Edge AI), enable a smartphone to understand both the user's current activity and whereabouts. By capturing and analyzing this information with our software, the phone is able to construct a comprehensive profile of the user's behavior, and ultimately, it can even predict what the user is likely to do next. JedAI is able to do all of this with minimal battery consumption. And critically, because the algorithms reside on the phone itself rather than in a cloud or on a server, the data generated stays entirely under the control of the user. We are the first and only company capable of leveraging AI directly on a smartphone to improve personalization and increase control of personal privacy without affecting the phone's battery life.
JedAI enables a phone to understand its owner's "micro-segments," also known as his persona, as well as his "micro-moments," which is his context. These micro-segments and micro-moments can become increasingly powerful when combined with online credit history and spending habits. Today, banks struggle to understand future customer needs and preferences because they primarily rely on purchase history. By combining offline behavior with online data and spending habits, we can create a much more holistic view of the customer. By generating a holistic understanding of a customer, banks can now anticipate their customers' needs, provide them with better services and benefits, and deepen their relationship with each customer.
However, this increased personalization would be of little value to an industry that relies on highly sensitive information if it infringed on customer privacy or interfered with the collection of consumer data. Because we designed our business and our solutions from the ground up with privacy in mind, our products are uniquely well positioned to help banks not only remain compliant with regulatory standards, but actually improve their brand image in the eyes of their customers.
Our tools provide users with the choice to disclose as much of their information as they choose. Even if a user chooses to remain completely anonymous, the bank can still leverage the user's anonymized data and the user can still receive curated and timely offers relevant to his context. By giving control of information back to the user, banks can better align their interests with their customers' and decrease their risk of data malfeasance or potential liability. Ultimately, our solutions offer banks the opportunity to simultaneously improve personalization and lead the industry with new privacy standards.
Given its specific needs to progress, to substantially improve customer relationships, and to meet a plethora of regulatory privacy requirements, the banking industry is in dire need of new technology and new solutions that not only improve the customer experience but improve the management of customer data as well. For an industry that prioritizes "Know Your Customer" (KYC), the ability to gain new insight into offline customer behavior, offer hyper-personalized and contextual services, and do so while allowing customers the power to control their information is revolutionary.
To learn more about Anagog's unique solutions and their potential to improve the banking industry, visit anagog.com or see us in person at Booth 4317 at Money 20/20 in Las Vegas, October 27-30, 2019.