Suggested Best Practices For iOS 13
Estimated Read Time:
4
Minutes
Suggested Best Practices to Make Sure your Customer Clicks "Always Allow" When Prompted
A few thoughts to keep in mind when creating your permission flow:
At Anagog, we see Apple's latest iOS updates as an opportunity to reiterate how apps built on Anagog's JedAI SDK are already constructed from the ground up with privacy and transparency in mind. It is also an opportunity to engage users and remind them of how powerful the insights from offline activities are and how crucial it is to understand their context in order to continue providing them with these great offers. As the app developers, you can check whether or not permissions are enabled. If they are disabled, then you can use notifications to inform users that they are not maximizing the apps benefits and may be missing valuable services. To help encourage users to enable location permissions, you can remind them that there's no need to feel concerned about third-party data collection because the technical base layer, JedAI SDK, ensures that all data remains on the phone by default.
Remember, it is critical to keep explaining and be transparent on why the permissions are required; to keep training and educate users on how to enable the permissions; and to keep enabling your users by giving them opportunities to reset / permit the relevant permissions.
Here are a few suggestions that we've found resonate with users:
Before your customers download the app…
Be transparent that the permissions they enable within the app are needed in order to generate relevant insights and provide them, and only them, with high-value, personalized offers, recommendations, and services.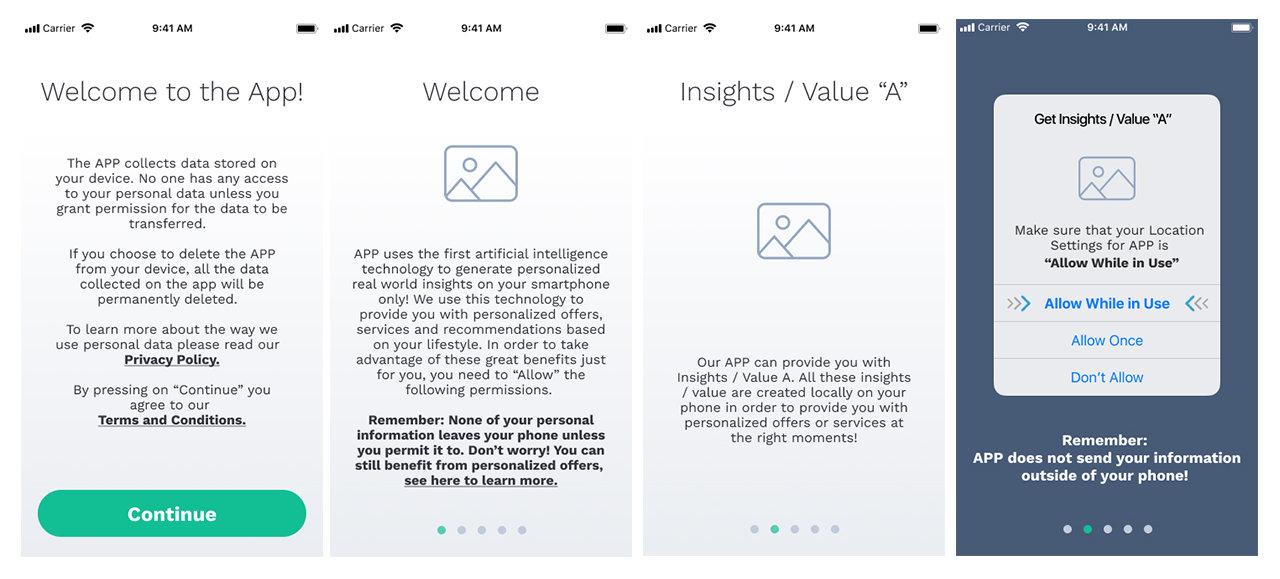 NOTE – Clearly and transparently justify the reasons for enabling permissions and provide the customer with control over their own data. If you have not established trust with your customers through this process, it will be difficult to convince them to enable the relevant permissions in the future. In order for Anagog's technology, JedAI SDK, to function properly and for the customer to receive insights and offers from a given application, location must be set to "Always Allow". Insights cannot be generated if "Allow Once" is activated instead.
Once the app is installed and the customer has permitted the app to access his location, the operating system will still remind the user that the app is using his location in the background. It will prompt the user to confirm the app has permission to "Always" access the user's location.
After your customers have downloaded the app…
At installation, inform the user that he will be periodically prompted by the operating system to confirm if the app is still allowed to use his location in the background. Again, this prompt is an opportunity to remind the user of Anagog's technological pillars – transparency and individual control of data. It is an opportunity to explain how the app's technology operates locally and how no information is sent from the phone unless explicitly permitted. But regardless, to receive personalized offers, location sharing needs to be set to "Always Allow".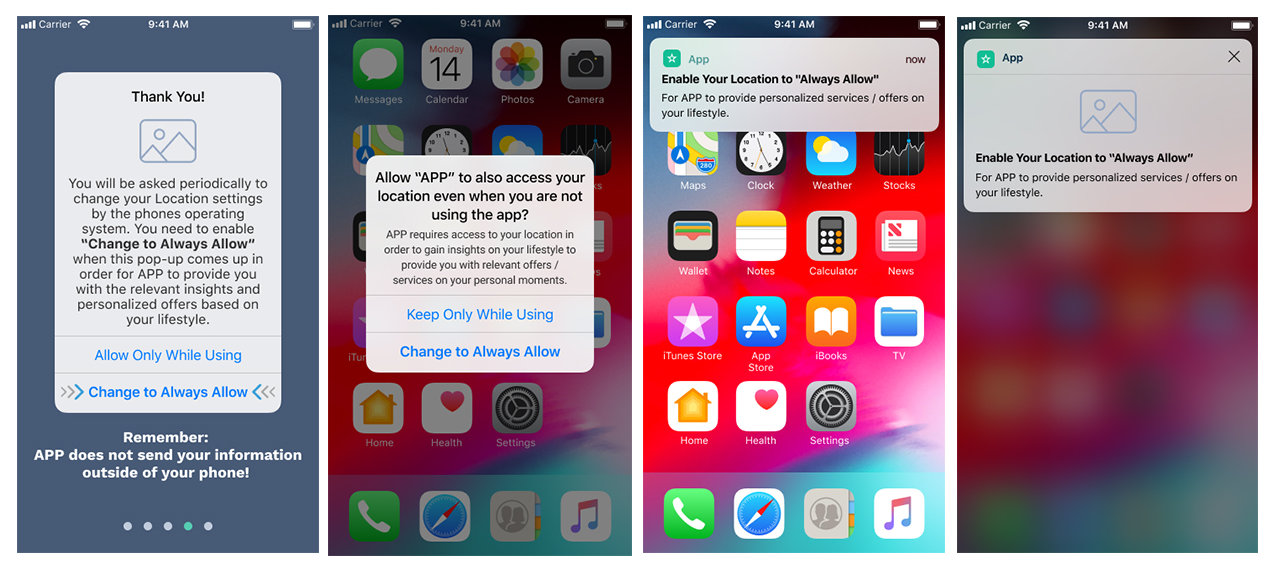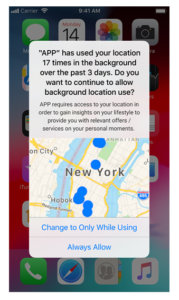 Continue to be transparent. Provide users with options and give them control.
By default, these insights are gathered on their phone and not disclosed to any third-party. Their information will only be shared with the app developers / company if they choose. It is their choice.
Explain clearly that the phone to generate valuable insights, they must grant permission. (Remember with JedAI SDK, users can still receive offers if they do not share their information with the company, but permissions must still be allowed for this to work).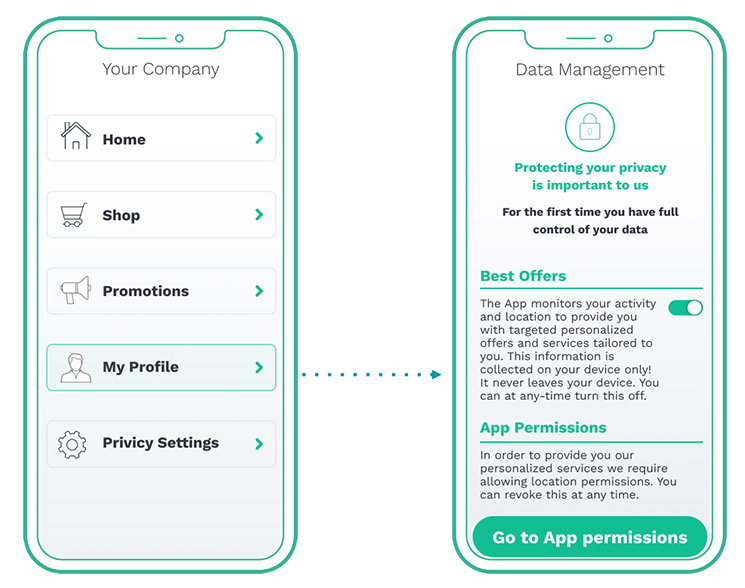 Help users become better informed by providing them with additional information on what collecting location in the background actually means.
By providing sufficient explanations for requesting permission through multiple steps, your mobile app user can "feel" and enjoy all there is to offer with the app. The high-degree of transparency will start to build a level of trust. With each additional engagement and explanation, you have an opportunity to connect with the user and ensure that they are in control of their own data.
By following these guidelines, your customers are more likely to understand the true contextual value prior to "Always Allow[ing]" the location permissions.
To learn more about Anagog's JedAI SDK Edge AI technology see here, or get in touch for a demo today!