Mobile Engagement Platform
Anagog's Platform is a revolutionary solution that changes the paradigm of Mobile Engagement, from a model that creates tension between personalization and privacy to one that maximizes both.
The platform implements Edge AI technology in order to deliver artificial intelligence in a small footprint. Shifting all that intelligence onto mobile phones means that companies can offer customers perfectly targeted engagement, at exactly the right moment, without having to collect personal data to a cloud and without resorting to tracking their customers movements with such mechanisms as cookies or persistent identifiers.
The platform allows you to use a wide range of data points and events, so regardless of any specific permissions, you will always be able to engage with your customers in the moments that matter. So, get your mobile engagement checklist ready, and be ready to check each item off with Anagog's Mobile Engagement Platform.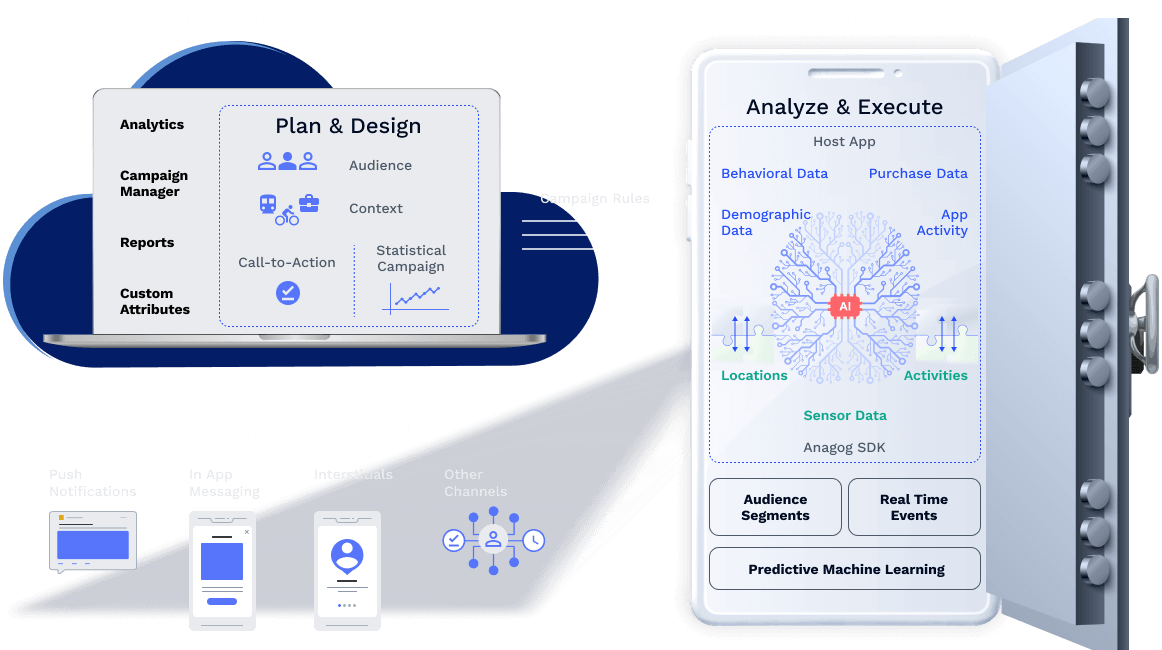 Gone is the architecture that required consumers' personal data to be constantly uploaded into some cloud environment with the hope that it would be treated with respect.
Gone is the legal exposure corporations needed to assume simply for trying to provide a high-quality User Experience.
Gone is the idea that we can fully understand consumers solely by counting the number of clicks in an app.
Anagog SDK
The Anagog SDK leverages Anagog's ground-breaking EdgeAI technology to keep all personal data, including profiles and behavioral insights, on the phone, away from prying eyes and transparently available for users to monitor. By embedding the SDK into your mobile app, you gain a distributed mobile engagement solution that requires much less resources and provides a much higher level of privacy.
Anagog Console
The Anagog Console allows the creation of hyper-personalized engagement campaigns without needing to know the identity of the target audience or their real-time location. The console reverses the flow of campaigns and the way they are matched with personalized data. The focused message, the exact target audience and the specific context are created in the cloud and the Anagog SDK on each device pulls the relevant campaigns for execution.
Geo-Fencing
Anagog's geo-fencing modules all contribute to the ability of the Mobile Engagement Platform to make sense of location data. Longitude and latitude may provide accuracy but they are useless for establishing relevance; it is knowing the significance of that location and associating it with a specific point of interest (POI) that helps understand behavior and helps create the perfect context for your engagement campaign.
Think it's too good to be true?
Try it out now. Your boss will thank you.
Get it now