Revolutionizing the way you know your customers with Edge-AI. Offer hyper-personalized services with unmatched privacy control.

Privacy-by-design
The world's first smartphone-based artificial intelligence (AI) engine, fully independent from backend server communications.

Ultra-low smartphone
battery consumption
No server dependency results in minimal battery consumption. Understand user activity and location 24/7 with no more than 1% battery life consumed daily.

Customer understanding
and targeting
Optimize customers' experience with relevant personalized offerings and real-time customer engagement based on their automated activity journal and holistic profile.
High Expectations – consumers anticipate brands to forge one-on-one relationships by tailoring experiences and recommendations that are unique for them.
Customers expect to get whatever they want whenever they want it, all the time. They expect brands to provide them with moments of "surprise and delight" and engage with them exactly at the right moment.
They understand that their data is being used to provide them with more personalized experiences and to make their day-to-day lives more convenient. But they don't want to feel like their privacy is being invaded.
Anagog revolutionizes the way you understand consumer behavior in the physical world, the consumers' context and predicts their future behavior. By utilizing the first of its kind patented Edge-AI technology Anagog enables companies the ability to provide highly personalized and contextual offers, while achieving unmatched privacy control
Data without context is just a lot of numbers. Data with context is knowledge. Anagog's on-device AI understands your customer's life journey beyond the doors of your store. With Anagog's JedAI, you're able to offer the right product or service to any consumer, and deliver it to them exactly when they need it; product, price and message.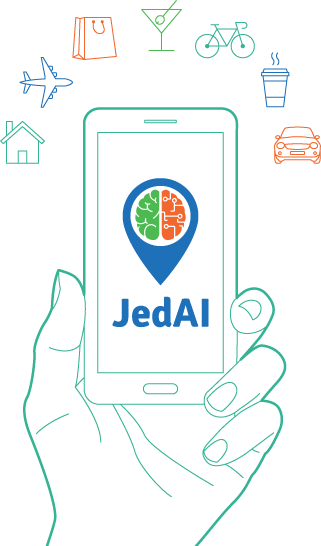 Edge AI – Analysis, deep learning, profiling and predictions all on the smartphone without need for cloud communication
Compatible with the latest Android and iOS operating systems
The first ever technology to simultaneously retain all personal identifiable information (PII) data on the user's phone, while providing unprecedented personalized and contextual services